Useful Links
---
Currently, the McKeon's now operates two transportation services which they own. The Headquarter located in Gales Ferry, CT, and operation out of Clinton, CT offers vehicles ranging from sedans to 57 passenger motor coaches. In total, the McKeon's operate with a magnificent fleet of 30+ vehicles combined.  Joshua's Limousine Service is the top limousine provider to Foxwoods Resort Casino and Mohegan Sun, the two largest casinos in the Northern Hemisphere. 
Lumi Hospitality
Lumi Hospitality is a hospitality, real estate, and lifestyle-focused agency that curates digital experiences by impassioned storytelling and insight-driven strategy. Our custom websites, marketing tools, and targeting know-how work together to deliver a powerful punch that hits potential guests at every stage of their long and complex consumer journey.
Lumi brings properties to life through stunning, visually-driven websites that evoke real-life guest interactions with your brand and provide seamless technical integrations with your POS, CRM, Booking Engine, and more.
DATTCO
Established in 1924, DATTCO is a third generation family-owned business headquartered in New Britain, Connecticut. DATTCO has over 2,000 employees, multiple offices, terminals and service facilities throughout New England. We are a dynamic organization with a corporate culture driven by customer satisfaction and safety. Our strengths lie in the quality of our people and our products so that we can provide personal service and transportation solutions for you, whatever you need.                                      
CT Restaurant Association                                         
www.ctrestaurant.org
The CRA is a full service, nonprofit trade association dedicated to support every type and size of restaurant. We are advocates for the Connecticut restaurant industry, a hub for information and a platform for networking. We commit ourselves to offering cost effective benefits and resources you need to run a profitable business. 
Saybrook Point Resort & Marina
www.Saybrook.com
The Saybrook Point Resort & Marina offers a little bit of everything to make your stay exceptional. Expect an attentive staff to greet you at arrival and assist in finding the perfect accommodations with brilliant views to match, and this is just the beginning. Discover the true meaning of revitalization and relaxation at our spa or find your perfect stride in our state-of-the-art fitness center. Savor the fresh, local ingredients found throughout our thoughtfully curated menu at Fresh Salt. Or, if it's not all play, allow our perceptive meeting planners to help you create the ideal corporate event with perfectly executed details at the ready. We strive to offer something for everyone and are always happy to help you plan a trip to best suit your needs.
Quinn & Hary Marketing
www.QuinnandHary.com
Based in New London, Connecticut, our experienced team of marketing and communications professionals, designers, web developers and wordsmiths are prepared to use every tool in our creative arsenal to help our clients achieve their brand objectives and drive business. We have assembled our team from diverse backgrounds in media, public relations, marketing, government, and the corporate world, which provides Quinn & Hary with a well-rounded perspective in understanding and achieving each client's unique communication and marketing objectives.
Sardilli Produce
www.SardilliProduce.com
One of the most state of the art food safe distribution centers in CT equipped with an in-house processing center for value added products. Now in it's 3rd Generation brothers Devin and Jason Sardilli are continuing the family tradition created by their father, Don Sardilli, which is to combine excellent service and superior quality at a competitive price. The company continues to build on its network of local farmers in order to bring locally grown products to their chefs tables. We look forward to continuing to service all of our current and future customers.
Essex Stream Train & Riverboat
www.EssexSteamTrain.com
Essex Steam Train & Riverboat's 2 1/2-hour journey begins at the historic 1892 Essex Station for a 12-mile, narrated round-trip into the heart of the unspoiled Connecticut River Valley. The steam locomotive pulls vintage coaches through the quintessential New England towns of Deep River and Chester. A natural highlight is the undeveloped Selden Neck State Park, accessible only by boat. Essex Steam Train offers unique access to several coves and preserves, immersing passengers in an on-board eco-excursion. The train travels near the tidal wetlands of Pratt Cove and Chester Creek — bountiful, natural habitats for birds including Cormorants, Ducks, Swans, Greenland Geese, Blue Heron, Egrets, and Red-winged Blackbirds. In February and March, the majestic Bald Eagle is the star of the show when it migrates south to the Connecticut River Valley from Canada and Maine.
Connecticut Marine Trades Association
www.ctmarinetrades.org
The Connecticut Marine Trades Association is a network of top marine-related professionals serving the recreational boating community in Connecticut and beyond. We are marinas, boatyards, boat dealers, yacht brokers, service technicians, electronics experts, welders, canvas creators, financial and insurance service providers and more. We are a well-trained, educated workforce specializing in the unique craft of boating sales and service.
And we love what we do.
University of New Haven
www.newhaven.edu
The University of New Haven Uniquely Positions You for Success. Within our distinctive colleges and schools, students find dynamic, responsive, engaging, and pragmatic paths of discovery across a wide variety of programs and disciplines. There are more than 100 academic programs to choose from, all grounded in a longstanding commitment to collaborative, interdisciplinary, project-based learning. Our colleges and schools are at the center of University life, and that's where we lay the foundation for future scientists, artists, entrepreneurs, forensic psychologists, doctors, engineers, programmers, attorneys, and scholars – soon-to-be global citizens who, before long, will take their places in the world.
Foxwoods Resort Casino
www.foxwoods.com
Since 1992, Foxwoods Resort Casino has offered guests The Wonder Of It All as the premier resort destination in the Northeast. As the largest resort casino in North America, Foxwoods offers a vast array of gaming in seven casinos; AAA Four-Diamond hotels, restaurants from gourmet to quick service, world-renowned spas, award-winning golf, state-of-the-art theaters, exclusive retailers and free-to-play online casino games at FoxwoodsONLINE.com.  Foxwoods Resort Casino is owned and operated by the Mashantucket Pequot Tribal Nation. For a comprehensive look at Foxwoods Resort Casino and Mashantucket Pequot Tribal Nation visit Foxwoods.com.
Mystic Aquarium
www.mysticaquarium.org
The mission of Mystic Aquarium is to inspire people to care for and protect our ocean planet through conservation, education and research. Sea Research seeks to achieve this mission by:  Creating thought-provoking encounters with marine life.  Conducting research that advances aquatic animal husbandry and health.  Serving as an interpreter of marine science discoveries and conservation issues.  Sharing resources and expertise with the scientific and education communities.  Pursuing these endeavors with a commitment to excellence and innovation
Mohegan Sun
www.mohegansun.com
A world at play and a world to its own, Mohegan Sun, created in 1996 by the Mohegan Tribe of Connecticut, is one of the world's most amazing destinations with some of New England's finest dining, hotel accommodations, retail shopping, live entertainment and sporting events. Boasting three world-class casinos, Mohegan Sun is also host to the Kids Quest/Cyber Quest family entertainment facility, two luxurious spas, world-class meeting facilities, a state-of-the-art Poker Room as well as three major entertainment venues with seating from 350 to 10,000. People from across the globe come to see live concerts with some of today's top headliners, along with major sporting events including Mohegan Sun's very own WNBA team, the Connecticut Sun and lacrosse team, the New England Black Wolves.
CT Airport Authority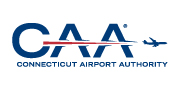 The Connecticut Airport Authority (CAA) was established as a quasi-public agency in 2011 to own, improve, and operate Bradley International Airport and the five state-owned general aviation airports (Danielson, Groton-New London, Hartford-Brainard, Waterbury-Oxford, and Windham). The CAA strives to provide excellent customer service and top-quality facilities for its passengers while making Connecticut's airports more attractive to new airlines, establishing new routes, and supporting Connecticut's overall economic development and growth strategy.  Originally opened by the federal government as a military air base in 1941, "Bradley Field" was transferred to state control in the mid-1940's and began establishing itself as a major regional resource. Now, Bradley International Airport is the second-largest airport in New England with a customer base that covers the entire Northeast.
Olde Mistick Village
www.oldemistickvillage.com
Stroll the beautiful paved walkways and enjoy shopping in distinctive buildings designed to represent a New England Village of about 1720. In the Village, we have picturesque settings of flowers, trees, and duck ponds that surround you as you stroll, relax, and unwind. Our shopkeepers pride themselves on offering you some of the most interesting and unique items from Mystic and around the world. Olde Mistick Village is home to some of Mystic's best restaurants as well as a multi theatre arts and movie cinema for your enjoyment.